Sir Fur Pet Services
SIR FUR™ has years of experience grooming most sizes and ages of dogs and cats, and offers a wide range of services:

Styling of both domestic dogs and cats
Organic, luxury shampoos
Aromatherapy
Circulating massage baths
Plush towels
De-shedding fuzzy coat removal
Nail trim, smoothing, & polish
Scissor styles, breed cuts, specialty clips, and brush out
Ear hair removal
Anal gland expression
Oral care
Specialty services from young pups to pets with special needs
Specialty Feline Products
Comfort for your pets
Our experienced groomers will treat your animals with the utmost of care and respect. We even have hydraulic lifts in our vans so your furry family members don't have to jump or be lifted up on the table.
Convenience for you
You don't have to go any further than your front door—we'll take care of the rest. Want to go have your own spa day while your pets are being groomed? We can take your pets back inside for you. Do you bring your pet to work? We can meet you at your office!
Green and clean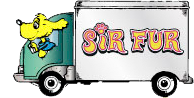 SIR FUR™ is proud to be a GREEN company.
At SIR FUR™ our rechargeable mobile units are self contained; we carry our own fresh water, collect the grey water, and use our own battery stored electricity. Make this a special day for your Fur–E friend—click here to schedule an appointment today!